Monogram Looks Upward with New Campaign "Elevate Everything"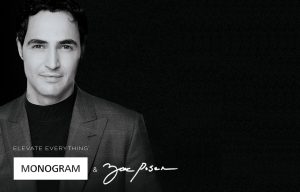 Like Dacor and JennAir, Monogram has now raised the stakes in the luxury home appliance space. With their new slogan, "Elevate Everything," the industry giant is bringing to the market a lineup of high-end branded products for the kitchen.
By utilizing the creative skills of world renowned fashion designer and cookbook author Zac Posen, Monogram has announced its collaboration with Posen to have his brand reflected in their premium products. Posen has dressed more than a few leading ladies in his time, including Michelle Obama, Rhianna, Gwyneth Paltrow, and Uma Thurman. Now, Monogram will have his signature style in their kitchen line.
Partnerships to Impress and Excel
Monogram has brought in the fashion icon to design a column refrigerator panel that will serve as inspiration for how a product can be distinctively personalized. This is the first of several projects planned with Posen in 2018. With his sense of style and his more recent interest in the culinary world, it's no wonder that he's been made "the perfect ambassador for Monogram," according to Ed Mammorella, Monogram's marketing manager.
This is not the first time they've partnered with someone outside of the appliance universe for their line, either. As seen in their latest campaign video, Monogram is also working with William Campbell of Anvil Goods in order to create uniquely hand sculpted pieces that show off the precision of the Monogram product, and in doing so, create luxury designs that are as authentic as they are detailed and functional. Monogram's goal is to seek out the devotion of craftsmanship and bring them to the world of kitchenware for the very best products they can create.
Monogram at KBIS 2018
The Kitchen and Bath Industry Show is known to showcase an array of designers, retailers, remodelers, builders and architects, and at the 2018 showcase on January 9th in Orlando, Florida, Monogram's team was committed to using this platform to make a splash. Those who attended their showing were treated to cuisine made from the new Monogram Pizza Oven with the help of several acclaimed chefs — cuisine not strictly limited to pizza. They also had Posen himself there, working beside the chefs as well as signing and promoting copies of his new cookbook, titled Cooking with Zac.
In his a Q&A Session at KBIS, Posen spoke about his design plans for Monogram's refrigerators, which the company will debut more openly at a later time. Likewise, during the session, Monogram announced even more partnerships with experts and artisans in the upcoming year. They also announced that the company has made a commitment to sustainability as well as craftsmanship, showing off a handmade cast-iron pan brought in by Borough Furnace to make their point.
It seems Monogram's new marketing strategy is intent on signaling to the market that they are serious about raising their game in the luxury appliance arena. By leveraging their manufacturing expertise, acquired over years as a unit of the GE brand, as well as by bringing in new contemporary faces in from other verticals, it's clear they have no intention of being left behind in the battle to win over the hearts, minds and stomachs of high-end consumers.
With the deployment of their association with William Campbell and Zac Posen they've managed to marry style and design, with functionality and reliability in a year that is shaping up to be one of innovation in the home appliance space from many serious players.