7 Must Have Kitchen Appliances for the Holiday Season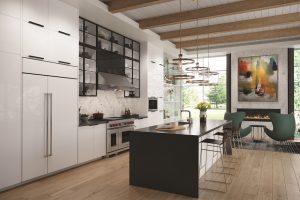 The holiday season is when families and loved ones come together to enjoy delicious food and drinks. If you've got the responsibility to host a celebration like this, you will have to make preparations and still have time to spend with your guests. This can be tricky, but you can make your life easier if you have the right kitchen appliances. But, a great kitchen isn't just for the holiday season; it's the gift that keeps on giving for the entire year! In this article, we will take a look at seven kitchen appliances that we believe are essential to get the most out of your holiday hosting experience.
A Warming Drawer
Any holiday host will find that a warming drawer can be a real help when they're preparing food for larger groups of people. When you're working on many dishes at the same time, it's very difficult to keep food warm until you're ready to serve it. Meal prep takes time, and certain courses cannot be cooked until the guests have arrived. Keeping food hot is important to maintain food safety when you won't have time to reheat or check each food item individually. Look for a unit with a variable temperature and humidity controls to keep your food in excellent shape until you're ready to serve. A sleek warming drawer may also have a modern aesthetic appeal to complement your kitchen.
2. A Double Wall Oven
A double wall oven allows you to cook more food at the same time, which makes it an efficient option when entertaining. The best modern models have a host of features to help a busy cook work efficiently, including precise temperature controls, built-in smart cooking to track your progress, and a huge variety of cooking modes. To make the most of your cooking time, get a convection oven that can give you consistent results with special foods, including prime rib, turkey, roasts, ham, and more.
3. A Speed Oven
Everyone has heard about microwave ovens, but many people are unaware of electric speed ovens, which are a viable alternative and superior in many ways. Microwaved food may be dry, the results can be sub optimal, and although it's fast and convenient, we can do better. A speed oven gives you the speedy heating that you need with the more precise cooking results that you would expect from a high quality oven. This allows you to roast vegetables, reheat leftovers, defrost, and even prepare entire meals in next to no time. The best modern models have a flush design, which makes them easy to incorporate into your existing kitchen. A speed oven can be installed in a horizontal or vertical configuration, making it a flexible option to match with your other new appliances.
4. A Larger Refrigerator
Every good host wants to keep their food as fresh as possible, and if you're entertaining, that can mean storing a lot of food under optimal conditions. So, if you enjoy hosting, you need a refrigerator that's large enough to meet your needs, but it must be energy efficient. Most modern refrigerators also have a host of features to make your life easier, such as adjustable storage bins, LED displays, door-in door designs, extra crisper drawers, and many more. These types of features are a godsend when you're busy because they help you to stay organized for nightly meals and special occasions.
5. A Wine Refrigerator
When you're hosting, it's likely that you're going to have a lot of wine on hand to keep your guests happy. Different types of wine are often at their best when they are served at a certain temperature. Placing all your wine in a standard refrigerator will not satisfy true wine lovers, and a dedicated solution is required. This is where a wine refrigerator can really help you to preserve your favorite wines and drink them at the optimal temperature. There are freestanding and built-in models in a wide variety of styles and configurations, so you're sure to find a wine fridge to meet your needs. The best models have temperature controlled zones to preserve the integrity of each bottle.
6. A Range
If you're new to cooking and you're starting to develop an interest in entertaining, you may quickly realize the limitations of a standard cooker. One of the best ways to cook larger volumes of food to perfection is to make the switch to a range cooker. There are many types of range on the market, such as gas, electric, dual fuel, and convection. Adding the aforementioned double oven makes the range even more versatile when your entertaining or cooking a larger meal. It's hard to underestimate the impact that a good range can have on your cooking efforts. A range with a 5-burner cooktop, continuous grates, and a griddle will be a revelation for those used to a standard cooker. One of the best technologies is a convection fan, which speeds up cooking times and distributes the heat more evenly. It's easy to track the progress with a wide view window without opening the door, which would cause a loss of heat. An oven at around 6.0 cu. Ft. in size will allow you to cook many different dishes at the same time, including casseroles, roasts, turkeys, and baking racks.
7. An Ice Maker
Any gathering where drinks are being served will require a lot of ice. Many people fill this need with bags of ice from the store, but they can take up a lot of space. For this reason, some hosts prefer to have their own dedicated ice maker to keep those drinks cool. There are built-in or portable ice makers that can produce plenty of ice to keep guests happy. The size of the ice maker that you choose will be determined by the size of your family and the number of guests you typically have at your home. A smaller portable unit will be adequate for a smaller apartment and more intimate gatherings. If you have a lot of guests during the holiday season, you will need a larger ice maker. If you have the available space under a kitchen counter, you can go with a flush installation to blend your appliance with the cabinetry. This gives you a refined finish and access to around 25 lbs of fresh ice whenever you need it!
If you're considering upgrading your appliances to handle your entertaining, you can explore the options with our online collection or speak to a home appliance specialist for further help.