4 Front Load Washer Tips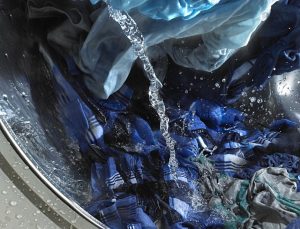 A front load washer has a number of advantages compared to a top loading unit. These types of washers typically have very fine controls over the temperature settings, they can handle large washing loads, and they can have smart functionality allowing control via an app on your phone. But, like any complex appliance, a front loader does require a certain amount of maintenance to ensure performance, efficiency, and a long operating life. In this article, we will look at four front load washer tips to get the most out of your machine.
Detergent Choices
Most modern front load washers need a high efficiency detergent to work as intended by the manufacturer. If you use a standard detergent, you may notice more soap suds, and this will leave a thin film on the surfaces of your drum and hoses. This may seem like a minor problem, but it actually promotes the growth of mold in your washer. This residue can also damage the mechanical or electronic components in your machine. If you have not been using a detergent specifically designed for your high efficiency front load washer, you may find that your warranty is void. Remember that a front load washer is designed to use less water and less detergent. If you add too much detergent, there isn't any excess water to dissolve the soap, and this creates the residue. Look for a detergent marked as "High Efficiency" or "HE" and stick to the recommended amounts. Adding more detergent will not improve the quality of your wash.
2. Open the Machine
As soon as your washing load is completed, you need to remove the contents. Then keep the door slightly ajar to allow air to circulate inside the drum. If a front load washer is left closed, mold and mildew can grow, and this will affect your future washing loads. If you do leave your damp items in the machine, you will notice that they smell musty. It's likely that you will need to wash those items a second time, and that musty odor can be hard to remove. If your washer drum does smell musty, try cleaning it with white vinegar to kill the mold and mildew and then run an empty cycle.
3. Levelling the Washer
Most front load washers use a higher rotational speed compared to a top loading appliance. This can cause the washer to vibrate, and it is essential to level the machine correctly to minimize lateral movement. This is especially true if you're washing a larger or heavier load. Ensure that your washer is positioned on a flat surface, use a level to gauge how flat it is, and adjust the leveling feet as required. Once you're finished, try a couple of empty loads, and you should notice that your front load washer is more stable and less prone to vibrating.
4. Programming
Most people don't like programming their appliances, but it can be a real time saver. Let's face it, washing can be a laborious and frustrating task, and anything that can make it more efficient should be welcomed. So, if you always wash your whites on a higher temperature, set that program as a favorite and then can call it up as needed. This will eliminate any mistakes that you may make under pressure when trying to program a wash on the fly. Let's face it, we are creatures of habit, most of us have set days for washing certain types of loads, and it makes sense to streamline that process.
If your washer is struggling to deliver clean clothes and you're considering an upgrade, you can explore your options with our online collection. Alternatively, speak to one of our home appliance specialists for further help.