Tips for Successful Entertaining in Your Kitchen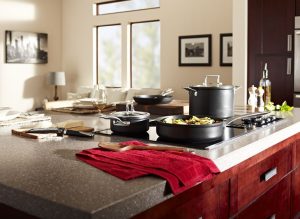 The heart of any successful party is the kitchen. Whether you're having a house party or having friends over for dinner, your kitchen is an essential area for entertaining. Unfortunately, if your kitchen is not properly equipped, it can lead to your event being a flop. So, here we will explore the best tips for successful entertaining in your kitchen.
Set Up a Bar
Your guests will need drinks, and whether this is cold lemonade, punch or craft cocktails, you need an area set aside as a bar. Create a beverage station on a kitchen island or countertop where you can place glasses, an ice bucket and your selection of drinks. If you have an under counter beverage center outside, on a warm evening, you could create a bar area on your patio for an alfresco event. Even if you intend to prepare your guests' drinks, keeping this area separate from food prep areas will help keep your kitchen flow at its best.
Prepare Delicious Snacks
Whether you're planning on serving a gourmet meal at a dinner party or are hosting a sophisticated soiree, it is a good idea to have some delicious snacks available for your guests. Plan your hors d'oeuvres in advance and store them in your refrigerator until they can be baked off before your party. Even something as simple as mini quiches or fresh bruschetta will keep your guests happy. If you're not planning on serving a meal, it's a good idea to designate an area for snacks, so your guests can enjoy a delicious bite as and when they like. Just remember to have a few sweet treats for those who aren't in the mood for savory bites.
Set the Mood
Great food and drink are important, but you also need to create a great atmosphere. No one wants to socialize in bright, harsh lights. So, dim your kitchen lighting and consider lighting some candles. If you have under cabinet lighting, you can create a great ambiance by using these and lowering or switching off your overhead lights. This will allow you to have enough light to serve food and drinks without bright lighting. You also need to have some music on low, to enhance your party atmosphere. Don't have the music so loud your guests can't talk, but match your playlist to the mood you're trying to establish. If you are having a dinner party, set up some sophisticated tracks, but get a bit more upbeat for a more lively event.
Think About Equipment Rental
Remember that hosting a great party doesn't mean that you need to make massive purchases. From basic items such as seating and crockery to decorations, you can rent a variety of party supplies. You can even hire ice cream makers, drinks carts and other food preparation appliances to create a more festival type atmosphere. This can be great for children's parties or a celebration for someone who is more young at heart. Think about your party requirements and think about what equipment or supplies you'll need. There is nothing more compromising to a party atmosphere if there are not enough plates, glasses or seats. Don't just estimate how many people will be attending and what cutlery, crockery and glasses you think you'll need, be fully prepared to ensure that your party does with a bang, not a fizzle.
If you're planning a party and think that your kitchen appliances need an upgrade to manage your event, you can explore your options with this appliance collection. Alternatively, you can speak to a home appliance specialist to answer your questions and offer a more in-depth service.