Introducing the New Sub-Zero All-in-One Beverage Center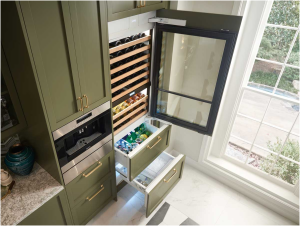 The Sub-Zero brand is easily recognized as offering the highest quality in refrigeration. Although Sub-Zero offers among the best products on the market, the brand continues to make improvements to better serve their customers. The company sought feedback in 2014 with the launch of the IW-30R wine storage unit, and it was reported that the only thing missing was the inclusion of an ice maker. This inspired the development of the IW-30CI, a 30" integrated wine storage appliance with ice maker and refrigerator and freezer drawers as an all-in-one beverage center.
Innovative Design
The IW-30CI upper section is designed to guard against the main enemies of wine: humidity, vibration, light, and heat. There are two zones to store your reds and whites at their ideal temperatures. Sub-Zero has also paid attention to the demands of entertaining, so the IW-30CI features impressive functionality including a refrigerator drawer for all your necessities, including cheese and garnishes and a freezer drawer for other supplies such as frozen fruit or additional items like frozen pizza.
There are four temperature zones with three evaporators to ensure that humidity is precisely controlled. The overall design provides the capacity for a total of 86 bottles of wine.
The IW-30CI can be installed in your cabinetry with the custom panels allowing a seamless installation in any space. Alternatively, you can choose the stainless steel accessory panels for a sleek and eye catching finish.
The Benefits of the Sub-Zero All-In-One Beverage Center
The IW-30CI all-in-one beverage center offers some fantastic benefits. Not only is it an attractive addition to your home, but it allows you to entertain with complete ease. If you're having a party, you can stock your beverage center with everything you need.
There is no need to keep rushing into the kitchen to get ice or needing to leave your guest while you get another bottle of wine. You can be the perfect host without missing out on all the conversion around you.
An all-in-one beverage center is also an investment in efficiency. You don't need to waste energy constantly opening the door on your main refrigerator. Anytime you want a cold drink; you don't need to return to your refrigerator and risk lowering the temperature compromising any produce or foods stored inside. This beverage center has been designed for smart airflow, so it is both convenient and energy efficient. There is no need to stand with the door open trying to decide what you would like to drink; you can simply look through the glass.
Other Features of the Sub-Zero IW-30CI
The IW-30CI also has some innovative features to enhance your user experience. The roller glide shelves have been designed to minimize vibration and ensure that all your bottles are safely cradled to avoid agitating your wine. There are also improved door hinges to create softer closing and opening.
There is also an automatic ice maker that features a "Max Ice" function. This provides delightful crescent shaped cubes and can increase ice production by up to 30 percent, which is ideal for holidays and parties.
You can also link your IW-30CI to your home security system to protect your investment in your wine collection. Your wine is further protected by the UV-resistant glass that prevents light exposure on your wine bottles. These harmful rays can cause premature aging. Instead, you can use the soft on LED lighting to gradually illuminate your wine and help you to find the right bottle. This lighting can also turn your wine into a decorative element within the room as your wine is showcased.
If you are thinking about a beverage center, you can explore your options with this online collection or speak to a home appliance expert for more specialist attention.