How to Size a New Refrigerator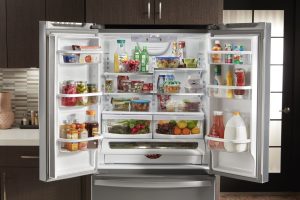 When it comes to choosing a new refrigerator, many people focus on the extra features. But, the most basic requirement, the size of the appliance and how much food it can store is often overlooked. A modern refrigerator should have a lifespan of around 13 years and you will be using this appliance for a while. So, it makes sense to choose a refrigerator that meets all your current and future needs. In this article, we will look at how you should size a new refrigerator for your kitchen.
The Basics
As a starting point, it's a good idea to examine our basic needs as food consumers. An average adult will require around 3-6 cubic feet of refrigerator storage space. Experts agree that a family of four would need a bare minimum of 20 cubic feet capacity to store their groceries. So, the number of people that you need to feed should be the primary determining factor plus any anticipated additions to the family in the future. Other considerations include a love for regular dinner parties, extended family visits and entertaining large groups of people which will increase the need for more refrigerator space. Let's take a look at the needs of various home occupants in more detail.
1-2 People
A top or bottom freezer compartment will necessitate a larger refrigerator compartment. Choosing a smaller freezer will create more refrigerator space without increasing the footprint. These are popular options because they are tried and tested technology and they are affordable models. A side-by-side or French door style refrigerator has more storage space but the footprint is much larger. For this reason, we recommend top and bottom refrigerator/freezer models for 1-2 people.
3-4 People
All refrigerator/freezer combinations are suitable for 3-4 people. But, the best options are French door or side-by-side models if you have a family of four. Refrigerators in this category are regarded as mid-sized capacity.
5+ People
Large capacity refrigerators are typically side-by-side or French door appliances with larger footprints. They offer plenty of storage capacity for larger families that may purchase their groceries in bulk to save time. A freezer section will take up around half of the space and this can be supplemented with a chest freezer as required.
Refrigerator Sizes
To put the refrigerators mentioned above into perspective we have the dimensions of popular configurations detailed below:
1. French Door Refrigerators
Height: 67-70⅛ "
Width: 29½-36"
Depth: 29⅜ – 34⅝"
2. Top Freezer Compartment Refrigerators
Height: 61¾ – 66¼"
Width: 28¾ – 32¾"
Depth: Approximately 34¼"
3. Bottom Freezer Compartment Refrigerators
Height: 67 – 70"
Width: 29½ – 32¾"
Depth: Approximately 33⅜"
4. Side-by-Side Refrigerators
Height: 65⅞ – 71¼"
Width: 32¾ – 39¾"
Depth: 28¾ – 30¼"
Knowing the dimensions of your refrigerator will be important to fit the appliance in your kitchen. Before you make commitment to buy measure the entryway to ensure that it can get through the main door to your home. Subsequent doorways and hallways can also present a problem if the corners are too tight which can make turning harder. The prospective refrigerator space should be measured and checked twice to make sure that the new appliance will fit. If there are people with limited mobility in the home they may struggle with front and top mounted freezer models that can be harder to access. It's also a good idea to consider an energy efficient model to save money on your energy bills.
If you're thinking about a refrigerator upgrade, you can explore the options with our online collection of models or speak to a home appliance expert for a more personalized service.