How to Choose the Right Appliance Finish for Your Kitchen Design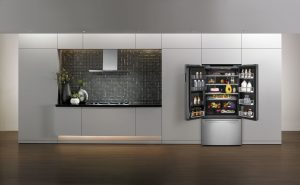 A kitchen remodel or appliance upgrade is a great way to breathe new life into any home. A well designed kitchen can add a lot of value to the home and it's a more pleasant place to cook and entertain. But, when it comes to kitchen decor and appliance finish choices, there is a dizzying array of choices to consider. The functional and aesthetic needs can be met, but how can you make a final decision? In this article, we will examine how you can choose the right finish to match your kitchen design vision.
Kitchen Appliance Finish Basics
In the past, the choice of kitchen appliance finishes was extremely limited. Most kitchens were restricted to white appliances, and cheaper models can discolor over time. The premium-grade models may have been available in stainless-steel, but these were only available at very high prices. Now, we have a huge range of appliance finishes that may not be available on every model and they are more common than ever before.
Let's take a look at four popular appliance finish options in more detail:
1. Stainless-Steel
Although stainless-steel finishes have been around for a while, they still work very well in a contemporary kitchen. This is still one of the most popular appliance finishes, and it will match most kitchen designs and decor choices. It's easy to create a minimalist feel when stainless-steel finishes are matched with pure white cabinetry. An alternative is to add these contemporary finishes with a rustic kitchen to add a hint of modernity.
2. Black Stainless-Steel
Black stainless-steel is a modern flashback to the heavy black appliances found in early industrial era kitchens. This is a perfect choice if you want an appliance finish that gives your kitchen a very modern edge. Black stainless-steel has a very different look and feel to standard stainless-steel finishes that is hard to describe. A more elegant feel can be created if the appliance is paired with darker cabinetry and isolated island surfaces. Black stainless-steel resists fingerprints, streaks, and smudges well, and the high-gloss finish shines after light polishing. If you don't like a shiny black surface, you can create a Bat cave feel with matte black stainless-steel finishes.
3. Slate
Slate is a matte, low-gloss finish that makes the appliances look sleek and modern for a very up-to-date aesthetic appeal. Slate resists fingerprints, it's easy to clean, and the surfaces are extremely durable. At first glance, these warm and charcoal hues may seem to be ill-suited to a kitchen setting, but they don't clash with other tones and textures. So, if you want a neutral finish that doesn't detract from a very unique kitchen, you may appreciate a slat finish for your appliances.
4. Other Color and Finish Options
If you're looking for less conventional options, there are wood paneled appliances that can make a kitchen look more traditional. Adding a brightly colored appliance can impart a retro appeal that many people love when they are paired with neutral furnishings. In this scenario, the appliances can become the focal point of the entire kitchen design.
In Conclusion
If you're upgrading your kitchen to sell your home, it's a good idea to choose popular or neutral finishes that have universal appeal to make a quick sale. But, if you have no intention to move, you can create your perfect kitchen design that reflects your personality and flair for the dramatic.
If you're considering upgraded appliances for your kitchen, you can explore the options with our collection or speak to a home appliance specialist for a more specialized service.