2018 Kitchen Appliance Trends to Look For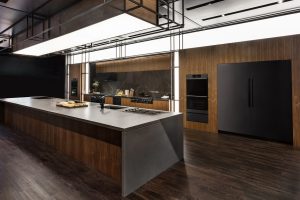 If you're thinking about giving your kitchen a makeover, you're likely to want to be up to date on all the latest kitchen appliance trends. An appliance can enhance the functionality of your kitchen, but if you make a poor choice, you could find yourself stuck with something that is outdated before your renovation is fully complete. So, here we will explore some of the 2018 kitchen appliance trends you should look out for when you're planning your new dream kitchen.
Black Stainless Steel
Stainless steel appliances have been around for years, and they offer perhaps the most versatile finish, but there is no hotter kitchen appliance trend today than a black stainless steel finish. This finish offers many of the benefits provided by traditional stainless steel, such as being scratch and smudge proof, but with a new contemporary edge. Black stainless steel complements bold, darker colors, with versatility to match many design styles and other finishes. Whether you're planning a sleek modern aesthetic or a more traditional look, you can seamlessly incorporate black stainless steel.
There are a number of kitchen manufacturers who have embraced this new trend, started by LG in 2015. The LG STUDIO line, which is a high end, luxury line inspired by Nate Berkus, includes everything from ovens, refrigerators, and dishwashers to many more in this fantastic finish. KitchenAid, Samsung, Dacor and Whirlpool also offer some great black stainless steel appliances, so don't assume you'll be stuck with a choice of white or traditional stainless steel.
Induction
Induction has been popular in Europe for a number of years, but it has finally made its way to the US. The price of induction cooktops has started to become a little more reasonable, so it is likely to be a massive trend in 2018. Many high-end chefs favor induction, as this technology offers consistent, precise and fast heat. You can boil water in less than half the time it would take with an electric or gas cooktop. Induction uses electromagnets that reacts with the metal in your stainless steel or iron cookware to generate heat. This not only provides instant heat, but once the pot is removed the surface is instantly cool. Additionally, since the reaction occurs between the electromagnetic coil and the pot, the surrounding surface remains cool, making it safer and easier to clean.
Every major brand has an induction cooktop offering, which include some great options to suit any size of kitchen or design layout.
Smart Appliances
Smart technology has become a feature in many areas of the home, but a 2018 trend to look for is smart kitchen appliances. Most of us have been in a situation where you're in the middle of meal prep and realize you've forgotten to preheat your oven. There is no need to stop, wash your hands and mess with your oven, as smart appliances feature voice activation. Many brands including General Electric, Whirlpool, Dacor and LG have smart kitchen appliances with Google Home and Amazon Alexa compatibility, so you only need to say the word, and your oven will start preheating.
Smart technology goes even further. There are appliances that can be linked to your smartphone to provide you with an update or allow you to make setting changes. This will allow you to know when your washer or dishwasher cycle is complete, set your oven preheating for dinner or even change your refrigerator ice settings before you even arrive home from work.
If you would like to know more about the latest kitchen appliance trends, you can explore the options with this online collection, or speak to a home appliance professional for more specialized service.